Dear Reader,
Smiles, the beloved commentator of diablog, is planning to visit the city. What city? There is only one "the city" in the world.
One can clearly make the case, that if you come to NY and intend on sleeping, you should go some place else. And I am not completely opposed to that. Another reason not to stay in a hotel is that there are plenty of "guest beds" available, check websites like AirBnB.
But NY is the greatest place on earth when it comes to hotels. From youth hostels to the most luxurious hotels in the world, here you find everything. I assume, Smiles neither wants a guest bed, nor considers hostels.
The following recommendations are for Smiles, who contemplates staying at the Radisson Martinique on Broadway. But he can do better.
At the very top of old fashioned NY luxury is the St. Regis:
It is off 5th Ave, within walking distance of Central Park and everything "Upper East side". If you are ready to drop $700+ per night, this is your place.
For modern luxury there is one outstanding place, The Mandarin Oriental: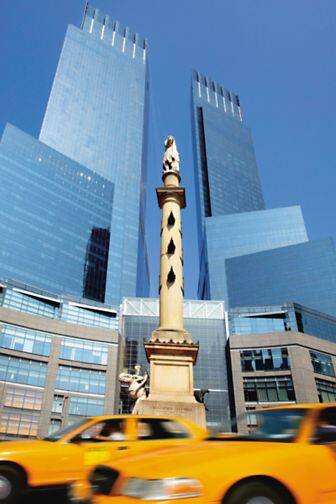 The Mandarin Oriental is on Columbus Square, at the south west corner of Central Park, with everything "Upper West Side" within walking distance. Even if you do not stay here, please come for afternoon tea in the Lobby Lounge. The views are spectacular. And this is true luxury.
What if you do not want to stay at the top of the top?