Dear Reader,
The headline is somewhat wrong and misleading. There should be a period instead of a comma. I am pointing this out, because of the recent struggle with spelling, missing words, grammar, and reading properly here on diablog.
Back to the points, what do Glynsky and I agree upon? First, that Glynky's latest recommendation here, Angel's Share, is a great movie. Secondly, that Glynsky misspelled the title, missing the apostrophe in Angel's.
But then, as the famous xkcd pointed out a long time ago: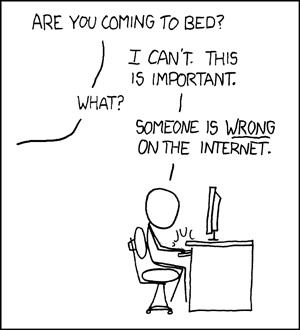 There is always someone wrong on the internet.
On to why our dear Glynsky is late, I might add, as usual. Because I recommended the movie three (3 !) years ago. On October 28, 2012, I wrote Enjoy Responsibly, with the movie title even in the headline. Been there. Done that.
In related news, I went to Glasgow not too long ago. I know, the English aren't fond of the Scots. But I get along with Scots very well, and have zero problems with their accent. Glasgow seems to be a great city, and it has very very friendly people. Hopefully I will be back soon. I'll let you know. In the meantime, from Glasgow:
Simple Minds – Promised you a miracle
Keep on rolling,
Engine Room